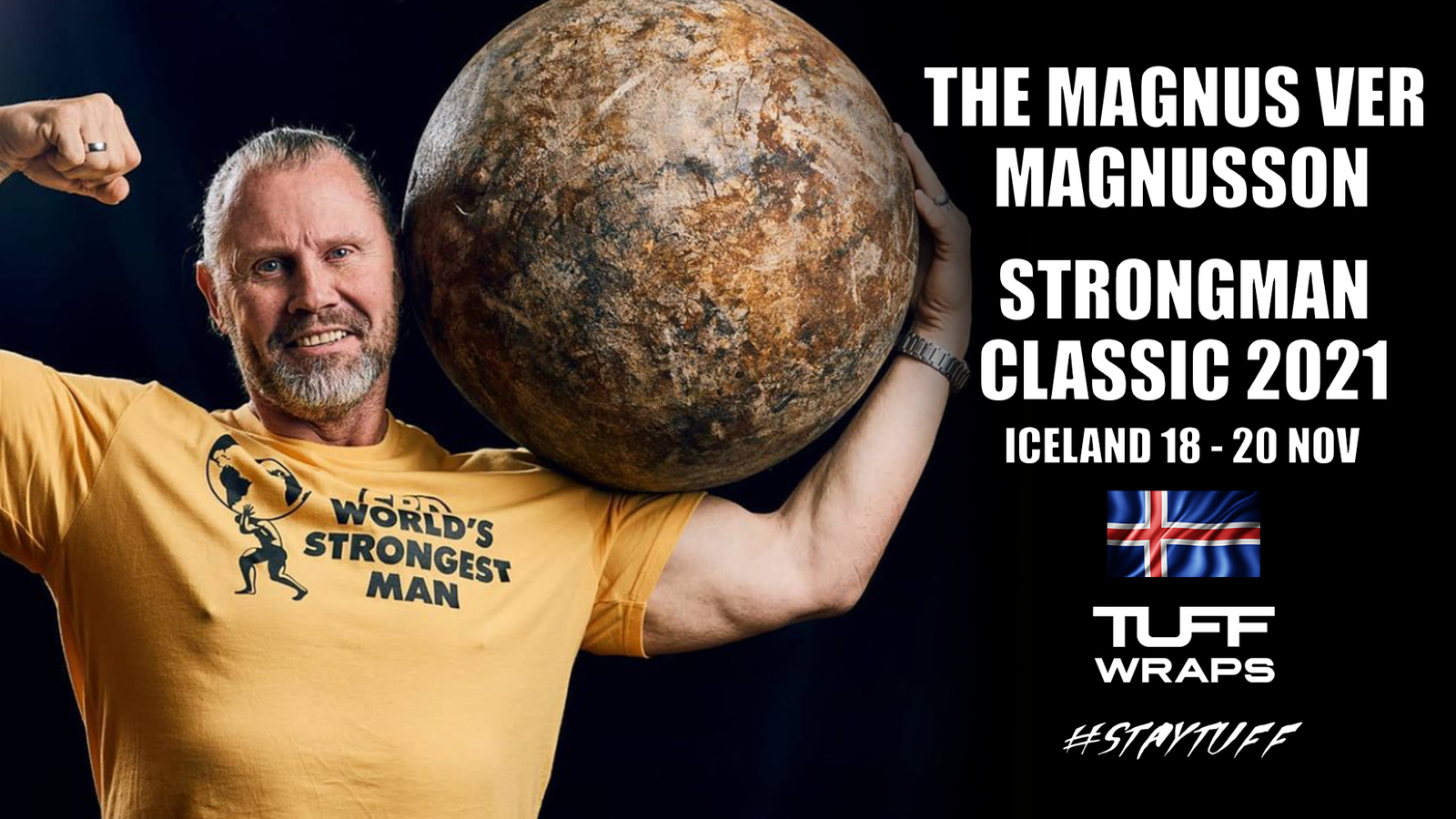 Press Release - "TuffWraps becomes an official sponsor of the 2021 Magnus Strongman Classic"
Event Date: 18th - 20th November in Iceland.
Its with great pride that TuffWraps can now announce it will be sponsoring one of the most historic strongman events of the year, the Magnus Classic 2021 due to be held in Iceland on the 18th - 20th November.
The Magnus Strongman Classic will see 14 of the strongest athletes from around the globe brought together to compete in 6 gruelling events over two days.  The events will be held in some of the most historic and beautiful locations around Iceland and many with a history of strength behind them.
The events will include:
Over Head Stone Press - World Championship

Husafell Stone Carry

Stone to Shoulder Medley

Log Lift Medley

Deadlift for Reps

Super Yoke & Farmers Medley
The event has been prepared and organised with the vision of 4 times World Strongest Man, Magnus Ver Magnusson.  Combined with his team, Magnus will run and manage the event and the whole weekend will be live streamed to watch around the world.  
The atheltes are:
Lautaro jauregui lorda (Argentina)
Stan Carradine (USA)
Theodór Már Guðmundsson
Sami Ahola (Finland)
Pirre Strong Motal (France)
Maxim Boudreault (Canada)
Ervin Toots (Estonia)
Ryan England (UK)
Eyþór I Melsted (Iceland)
Kristján Jón Har (Iceland)
Sigfús Fossdal (Iceland)
Tómas Darri Þors (Iceland)
Kim Ujarak Lor (Greenland)
Dennis Kohlruss (Germany)
Almost all of the equipment being used for this event is being custom-made, with one of the most anticipated items being the newly crafted wooden log from none other than Richard Looney.
Please follow Richard Looney and his manufacture of awesome strongman kit here:
IG: @monstersgymcarlow
If you are new to strength sports and strongman here is some history about 4 times World Strongest Man Magns Ver Magnusson.
" Magnús Ver Magnússon first turned his talents towards powerlifting, winning European and World championships.
In 1985 Magnús began competing in strongman. He won his first World's Strongest Man title in 1991 and then another 3 times. Magnús won many other strongman titles, including Iceland's strongest man numerous times and the West coast Viking (Vestfjarðavíkingurinn) of Iceland 9 times.
Magnús spent his career making sure he was not only the strongest statically, but the quickest and most dynamic.
In 2019 after not competing for 14 years, Magnús awed crowds by setting a phenomenal time of 101.2seconds on the hercules hold.
Magnús frequently judges strongman competitions and has a reputation for being a firm and fair referee. He owns the world famous Jakaból (nest of giant's) gym in Kópavogur Iceland."
Quote Credit - The Magnus Classic Team
If you are interested in strongman sports and would like to see more of TuffWraps in action please check out the Strongman Champions League which TuffWraps is the official kit sponsor of.
Strongman Champions League: https://uk.tuffwraps.com/pages/strongman-champions-league
Please see a selection of our popular strongman kit below.