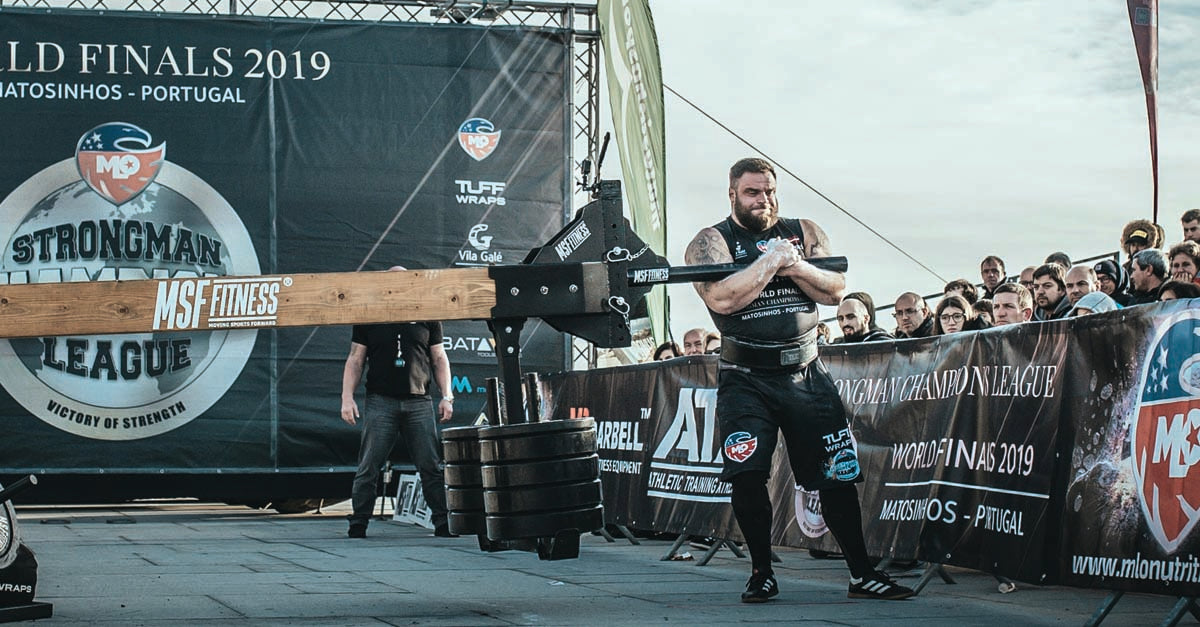 "With new places on the calendar, over 16 stages, broadcasting in more than 100 countries next year and in its 13th year, the MLO Strongman Champions League (SCL) can be seen truly as the biggest strongman league in the world," SCL co-founder Marcel Mostert told IronMind, and heading the all-Baltic podium at the MLO Strongman Champions League (SCL) World Championship, Aivars Smaukstelis wrested the title from defending champion Dainis Zageris.
Aivars Smaukstelis from Latvia is the new SCL world champion as he dethroned his countryman Dainis Zageris last weekend in the 16th and final stage of theMLO Strongman Champions League, held in Porto, Portugal. 

Latvia's Aivars Smaukstelis swept away his opponents in the final competition of the World Series. Newcomer with two years experience, Marko Remlik from Estonia, got second and the 2018 World Champion, Dainis Zageris, took third place, for an all-Baltic podium.

Krzysztof Radzikowski (Poland), who was leading throughout the early events, got 4th overall because he was not strong in the final two events. It was a very hard, but also exciting final for all athletes, and a great experience as well for them. This competition in Portugal was full of memorable performances and strong results.
The competition was done over 7 events. Unfortunately Kelvin de Ruiter from Holland, who was the SCL leader after 15 stages, had to give up because he got really a bad flu at the wrong moment. Otherwise it could have been all different of course. Next year a new chance!
Final Results MLO Strongman Champions League 2019
Aivars Smaukstelis / LAT

79.5

Marko Remlik / EST

72.5

Dainis Zageris / LAT

66.5

Krzysztof Radzikowski / P

62.5

Johan Espenkrona / SWE

58

Alex Moonen / HOL

56.5

Ervin Toots / EST

53

Sebastian Kurek / P

53

Sean O Hagan / IRL

45

Mika Torro / FIN

35

Kelvin Ruiter / HOL (injured)

13

Will Baggott /UK

12.5
Kick off for the 2020 MLO Strongman Champions League is 24/25 January in Norway, with the World'S Strongest Viking 2020.
ALL WORLD CHAMPIONS:
STRONGMAN CHAMPIONS LEAGUE HALL OF FAME
2008 (Finland) Zydrunas Savickas / LIT
2009 (Ukraine) Andrus Murumets / EST
2010 (Ukraine) Terry Hollands / UK
2011 (Bosnia) Ervin Katona / SRB
2012 (Martinique) Zydrunas Savickas LIT
2013 (Malaysia) Krzysztof Radzikowski / P
2014 (Malaysia) Martin Wildauer / AUT
2015 (Turkey) Krzysztof Radzikowski / P
2016 (Dubai) Dainis Zageris / LAT
2017 (Mexico) Matjaz Belsak / SLO
2018 (Mexico) Dainis Zageris / LAT
2019 (Portugal) Aivars Smaukstelis / LAT
2020  – – – –  WE WILL FIND OUT!