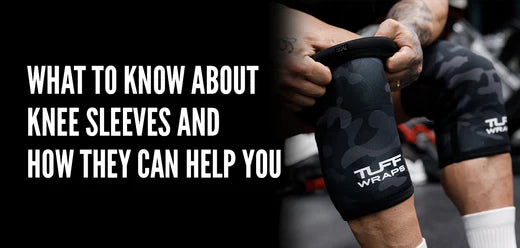 Knee sleeves have become a popular accessory for athletes, gym-goers, and anyone looking to protect their knees during physical activity. While powerlifters and weightlifters initially popularized them, knee sleeves have found their way into a wide range of sports and activities. If you're considering investing in knee sleeves, here's everything you should know.
What Are Knee Sleeves?
Knee sleeves are compression garments that are worn around the knee joint. They're designed to provide support, warmth, and compression to the knee, which can help prevent injury and assist in recovery. Knee sleeves are typically made from neoprene, a synthetic rubber material known for its durability and ability to retain heat.
Benefits of Knee Sleeves
Knee sleeves have many benefits beyond injury prevention, pain relief, improved performance, and faster recovery. Here are a few additional benefits of knee sleeves:
1. Increased Proprioception: Proprioception is the body's ability to sense where it is in space. Wearing knee sleeves can help improve proprioception by providing brain feedback about the knee joint's position. This can help improve balance, coordination, and overall movement quality.
2. Protection from Scrapes and Abrasions: If you're participating in a sport or activity that involves sliding or falling on your knees, knee sleeves can provide additional protection from scrapes and abrasions. This can be especially helpful for athletes who slide into base paths or goal posts.
3. Joint Lubrication: Knee sleeves can help increase the knee joint's temperature, promoting synovial fluid production. Synovial fluid acts as a lubricant for the joint, helping to reduce friction and improve joint mobility.
4. Post-Surgery Support: If you've had knee surgery, wearing knee sleeves can help provide additional support and compression during recovery. This can help reduce swelling and improve healing.
5. Arthritis Relief: If you have arthritis in your knees, wearing knee sleeves can help alleviate pain and discomfort by providing compression and warmth to the joint. It can also support your knee and keep it from bearing too much weight.
How to Choose the Right Knee Sleeves
When choosing knee sleeves, there are a few factors to consider:
1. Material: Knee sleeves are typically made from neoprene, but the thickness and quality of the neoprene can vary. Look for knee sleeves made from high-quality neoprene that provide the support and compression you need. The material should be comfortable, breathable, and durable for repeated use.
2. Size: Knee sleeves come in various sizes, so measure your knee circumference and consult the manufacturer's sizing chart before purchasing. The best knee sleeves are designed to fit comfortably over the knee without being too tight or loose.
3. Purpose: Consider what activities you'll use your knee sleeves for. If you're a powerlifter or weightlifter, you may want thicker knee sleeves that provide more support, while runners or cyclists prefer thinner knee sleeves that allow greater mobility. 
Conclusion
Knee sleeves are a valuable accessory for anyone looking to protect their knees during physical activity. By providing support, warmth, and compression, knee sleeves can help prevent injury, alleviate pain, improve performance, and speed up recovery time. When choosing knee sleeves, consider the material, size, and purpose to ensure you get the proper support and comfort.
Don't let knee pain hold you back - try our weightlifting knee sleeves now and feel the difference! TuffWraps are the best knee sleeves on the market, made from high-quality material designed to withstand the most strenuous workouts. Our knee sleeves are durable enough to be worn for weightlifting, CrossFit, and other types of training, but they're also great for everyday use!